Goulet Golf Club
The Golf Course
About the Joanne Goulet Golf Course
As Regina's municipal executive length course, the Joanne Goulet Golf Club provides city residents with a fast, enjoyable round of golf. In as little as 3 ½ hours you can play a full 18 holes, making the course an ideal choice when you want to golf, but have little time. It allows the golfer to use all the clubs in their bag and is a real challenge, a mix of long and short holes.
The back 9, which was designed by Dave Grant, is longer than the front nine. It also has very genenerous greens which are well protected by sand. Because of their size, they prove to be very inviting targets, and are most forgiving to novice golfers. Their mostly level surfaces read true, allowing you (in most cases) to aggressively tackle the hole.
The Wascana Creek weaves its way through the entire course and is in play on 15 of its holes. The creek provides the bulk of the course's hazards, as Joanne Goulet plays very open with few trees in play.
The most difficult hole on the course is the 13th. This par three plays uphill towards an elevated green, making it play even longer than its 214 yards would indicate. Additional difficulties are provided by a bunker to the front left of the green and the creek in play down its entire left side.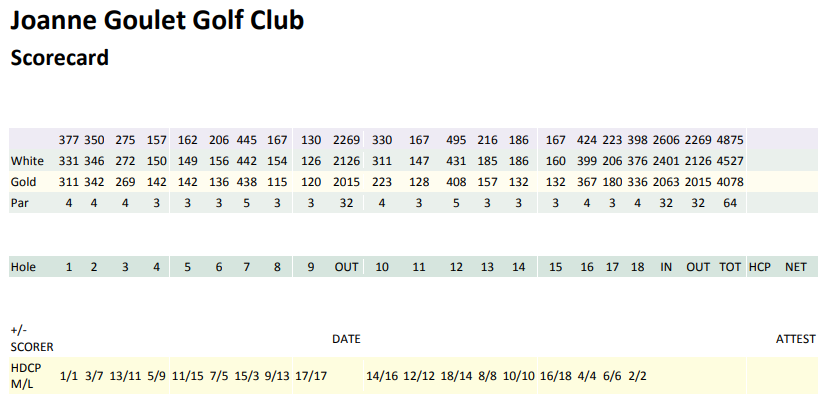 COURSE POLICY
All golfers are kindly requested to wear appropriate attire at all times. Shirts and appropriate shoes must be worn. Cancellations should be made as far in advance as possible.
An eighteen-hole round of golf at the Joanne Goulet Golf Course is meant to be played in three and one half to four hours. Please try to stay within one shot of the group in front of you which will help make everyone's day an enjoyable one. Thank you for your co-operation and have a great round.
Booking Procedure: Tee Times for 18 hole rounds may be reserved five days in advance starting at 7:00 pm. EXAMPLE: Saturday Tee Times begin booking at 7:00 pm Monday evening.
Tee Times for 9 hole rounds may be reserved through the Pro Shop on the day of play. EXAMPLE: Thursday 9 hole rounds begin booking Thursday morning upon opening.
NOTE: Singles, walk-on groups and late twilight groups will be put into the first available spot on a first-come, first-served basis.
SLOPE RATING
Men's:
Back Slope 120, 67.9
Middle Slope 114, 65.9
Forward Slope 105, 63.1
Ladies:    
Front Slope 94, 60.4
Middle Slope 101, 61.8
Back Slope 102, 63
PAYMENT METHODS
Visa, MasterCard, American Express, Debit, Cash, Cheques.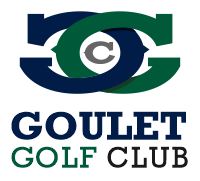 few clouds
-12° C
-13° C | -11° C
4.12

m/s